Gypsy
"Amanda Rose's performance as Louise is pitch-perfect, capturing the awkwardness and lack of grace of the nascent vaudeville performer that slowly blossoms into the Gypsy Rose Lee persona. Her final incarnation as the tongue-in-cheek sex symbol has Marilyn Monroe's tongue-in-cheek sexuality, but with a healthy dose of nerd appeal, thanks to her witty and self-effacing banter. It's safe to say that if Amanda Rose's Gypsy Rose Lee was a star today, she'd be an internet darling."
– BroadwayWorld.com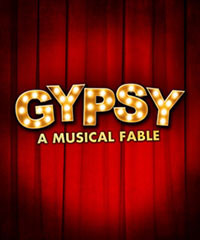 ---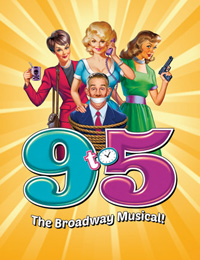 9 to 5
"Amanda Rose is revelatory as the shy divorcée who learns to be assertive, belting the powerful 'Get Out and Stay Out'"
– BroadstreetReview.com

"Rose gets to perform the show's eleven o'clock song called 'Get Out and Stay Out,' which gives her a well deserved star turn."
– MD Theatre Guide.com
---
Miss Saigon
"Rounding out Miss Saigon's fine and fully committed featured cast (is) Amanda Rose as Ellen… Rose delivers a plaintive and powerful "Now That I've Seen Her" as she determines to do whatever she must to keep her husband from returning to Kim."
– BroadwayWorld.com

"…but the marine (a powerfully voiced Gregg Goodbrod) has gone back to America and married Ellen (Amanda Rose, another superb voice in a difficult role)."
– SeaCoastOnline.com

"Amanda Rose (Ellen) brought another show-stopping number to the stage with the conflicted, "Now That I've Seen Her."
– The Portland Daily Sun

"The quality of the production in Ogunquit cannot be overstated. Short on dance and fluff, Miss Saigon requires bold direction, high-quality voices and acting, and impressive effects. All are delivered here… And a review of this production would be remiss without mentions of the formidable performances of Rose as Ellen."
– EagleTribune.com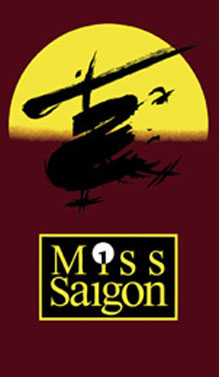 ---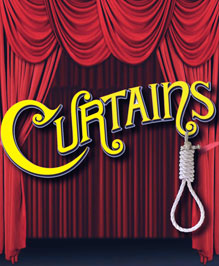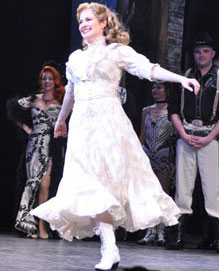 Curtains
"Amanda Rose plays Niki Harris, the show's ingénue and Newman's love interest, with endearing charm."
– nytheatre.com

"And he's paired with a charming ingénue, Amanda Rose, who brings ingenuousness to new heights."
– The Montclair Times

"Newman is quietly charming as the detective, Lt. Frank Cioffi, who falls for the show's good-hearted ingénue (Amanda Rose)… But the show's unforgettable number is "A Tough Act to Follow," sung and danced by Mr. Newman and Ms. Rose, in which Lieutenant Cioffi lives his dream of being onstage and Robert Andrew Kovach gets to go glamorous with his scenic design, complete with staircase, chandelier and starry night sky."
– New York Times

"Amanda Rose is marvelous as Niki Harris, the young ingenue in Robbin' Hood whom captures the complete attention of Lt. Cioffi… Ms. Rose is sweet without being saccharine and is terrific in "A Tough Act to Follow," leading the eager and enthusiastic Robert Newman through a huge fantasized production number that is charming, captivating, and contagious."
– Houston Chronicle
---
Wicked
"In its first return to San Diego following a sold-out run in 2006, the musical is flat-out fab. But what makes it all work is not simply Stephen Schwartz's (mostly) lyrical score or Susan Hilferty's eye-candy costumes or the generous talents of performers such as Katie Rose Clarke (Glinda), Donna Vivino (Elphaba) and Amanda Rose (Nessa)."


"…but Rose's wistfully gorgeous turn on "Wicked Witch of the East" is a gem among the less-heralded tunes."
– Union Tribune, San Diego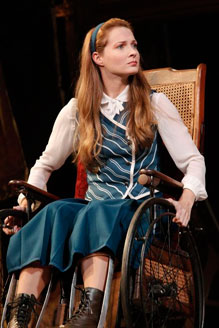 ---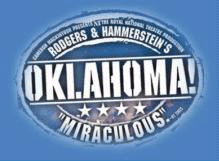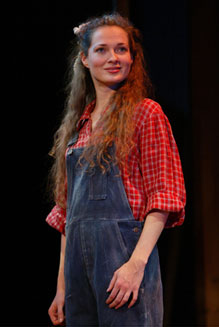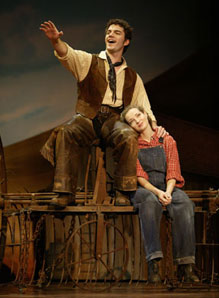 Oklahoma!
"…[Rose is] a delightfully honest, gutsy, vulnerable actress and a legitimate dancer who does her own dream ballet with aplomb."
– Chris Jones, Chicago Tribune

"Rose is a gifted actress-singer-dancer… convincingly tough, feminine, vulnerable and stalwart."
– E. Kyle Minor, New Haven Register

"Oklahoma director [Fred Hanson] found delightfully fresh-faced, sweet-voiced and clearly hungry youngsters to play Laurey, Curly, et al…"
– Chris Jones, Variety

"Amanda Rose, who plays Laurey and dances her scenes in the dream sequence, is outstanding in both roles. Here, the touring cast has one on Broadway and in London, where Laurey danced superbly, but barely had the voice for such a demanding role. Now, the 'no-name' does the job."
– Jeff Nelson, ChicagoBuzz Online

"As Laurey, Amanda Rose is, in many ways, superior to [the actress] who played the role on the West End and, two years ago, on Broadway."
– Alicia Blaisdell-Bannon, Cape Cod Times

"The most impressive performance, however, comes from Amanda Rose as Laurey. Ms. Rose convincingly transforms from awkward tomboy to a blossoming young woman. Her singing is first rate… she does her own superb dancing in the dream ballet sequence."
– Scott Cain, Talkin' Broadway Online

"Heroine Laurey (Amanda Rose, delightfully spiky)…makes an intriguing Laurey, convincing through her petite soprano and dance technique."
– David C. Nichols, Los Angeles Times

"…in Brandon Andrus' Curly and Amanda Rose's Laurey, there is a joyous physical and vocal chemistry that seemed to evade the Broadway cast… Rose has a lovely lilting soprano, and in Laurey's new Sears and Roebuck dress, she is tranformed from plucky farm girl to elegant ballerina."
– Wendell Brock, Atlanta Journal-Constitution

"…the pristine Amanda Rose as love interest Laurey."
– John Moore, Denver Post
---
Singin' in the Rain
"The Debbie Reynolds role of Kathy is handled by Amanda Rose with professional aplomb, and she brings a polished singing voice to the solos 'You Are My Lucky Star' and 'Would You.' "
– Christine Howey, Clevescene.com

"Amanda Rose is pretty, charming and gifted. Her Kathy is delightful."
– Royberko.info.blogspot.com

"Rose's voice was so crystal clear it reminded me of a young Julie Andrews."
– Coolclevland.com-Auteur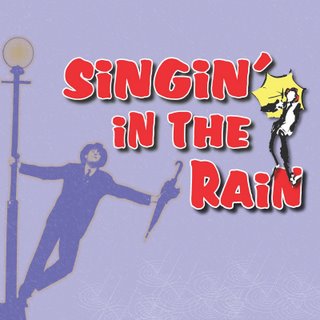 ---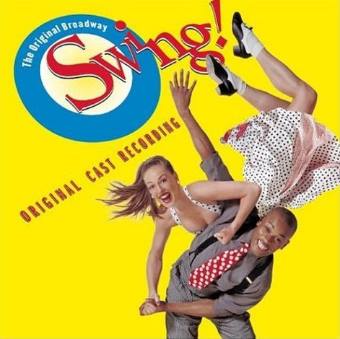 Swing!
"Then there are the dancers like Amy Shure, Amanda Rose, and Tera-Lee Pollin, whose dancing doesn't project their training so much as a playful, regular-gal abandon that's immensely appealing… And in "I'll Be Seeing You" (a ballad that Bing Crosby put on the top of the charts in 1944) Thatcher departs from the swing idiom completely, and sends Amanda Rose languishing through a balletic pining over a sailor."
– Online by Megan Grumbling

"Other standouts were Desiree Duarte, Quinn Bass and Amanda Rose."
– Times Record Contributer